Facial Aesthetics - The Importance Of Medical Training
Posted by
Dental Excellence UK
on Aug 5, 2021 1:13:36 PM

Aesthetics treatments have become increasingly popular over the years, primarily due to the advancements in technology which can not only produce better results but also make it much safer. Receiving the treatments is becoming more accepted too, with a lot of patients opting for aesthetics treatment to combat the effects of old age. The treatments are able to make you appear younger and remove some of the negative features of your face, which can worsen as you get older. However, if you do choose to receive this treatment, it's extremely important you choose a clinic that has properly trained medical staff.
Over the years, as more people have begun to receive facial aesthetic treatments, there have been many stories about botched treatments as they've attempted to cut corners. DIY injections, back-alley clinics and other attempts to cut costs have led to patients suffering as a result. The risk involved with receiving these treatments from people who aren't medically trained is huge, not only will the treatment be ineffective, it could leave you looking far worse than you could have ever imagined. In a lot of cases, this does happen and as a clinic with incredibly skilled, certified doctors working with us here in Liverpool, we cannot stress enough the importance of getting someone who is medically trained to complete the treatment.
There is a range of different treatments you could have and various reasons why you may want to receive them. Often, different treatments require a different process and sometimes even use different materials and equipment but that doesn't mean the skill level to complete the treatment should be any lower. We offer the most popular treatments here at Dental Excellence and with a skilled professional on our team such as Dr. Deji, you can take comfort in knowing that when you choose us, you'll be properly cared for. As professionals, we also take great pride in providing incredible results for our customers, which we aim to do every single time.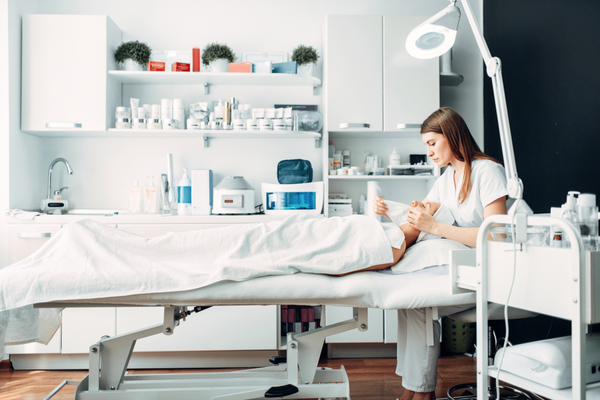 What are aesthetics?
So, let's take a look at exactly what aesthetics are and the reasons you may want them. Typically, someone may be able to tell you what the treatments are, such as "lip filler", but they may not be able to tell you what materials are used or the procedure which is involved. For some, this can create fear and worry when faced with the thought of receiving the treatment but this is simply because of the unknown. By learning about the treatment as what it involves, the fear of the treatment can quickly dissipate. Also, by understanding the precise nature of the treatments, you will begin to understand even more how important it is to go to a clinic with certified professionals.
Dermal fillers, which is one of the most popular facial aesthetic treatments that we can offer, is a treatment that uses proper, FDA approved substances. The fillers are made of a medical-grade hyaluronic acid gel, which is actually tissue-friendly. Hyaluronic acid is naturally occurring in the body and has many useful properties such as the ability to retain moisture. This means that once the filler is injected, your body won't see it as alien, due to its ingredients already being elsewhere in the body. The filler is also able to help provide volume to the skin and is flexible, meaning it won't hinder your ability to move your face or change facial expressions.
As the filler utilises a completely natural element, your body is able to break down the filler and disperse it over time, which is a completely healthy process for the body to complete. However, this means that the treatment will need to be reapplied months later (how many exactly will depend on the patient). Another benefit of this is that if you're receiving fillers for the first time and aren't sure whether you'll like the results, they won't be permanent, so you won't need to have a procedure to reverse the treatment.
As the filler is versatile, we're able to use and apply it to different areas of the face to achieve the desired results. We can apply it to the lips, to increase definition and plumpness, as well as various areas on the face to reduce lines and wrinkles. As you age, wrinkles will become more prominent and in some cases, can make you appear much older than you are. Because of this, it's completely understandable that you would want to reverse these effects to maintain your youthful glow. Using the dermal filler treatments, we're able to add volume to your tear troughs, temples and smile lines, to improve your overall appearance. We can even use the filler to contour your cheeks and give you a more defined appearance.
Arguably, one of the biggest benefits is that it's a great alternative to surgery, as the dermal filler can be used to produce incredible results without patients having to go under the knife. This also makes it much safer than surgery and has much shorter recovery times too, meaning you can begin enjoying the results far sooner. There are plenty of improvements that can be made by using the filler too, such as straightening a nose that is bent or has previously been broken, smoothing out the bridge of a nose or lifting the tip of the nose. As the nose is such an integral feature on the face, it's easy to understand why so many people look to have their nose altered. Breakages can also affect the nose as it's extremely common for broken noses to heal with imperfections. Living with a nose that you're not happy with is something no one should have to do and now that you don't need to go to surgery to get it fixed, it's much easier to get a solution.
It's not only dermal fillers we offer either, we also offer botox for those who are looking to combat the effects of old age. Anti-wrinkle injections can remove wrinkles on your face and prevent new ones from forming. At Dental Excellence, we use the Botox brand, which is the best and most popular version on the market. By cutting corners with cheaper versions of the material, you're opening yourself up to the risk of issues arising and your health being damaged. The proper Botox filler won't harm you and will instead carry out its job properly, which is to block signals between muscles in the area which prevents them from moving. By doing this, you're able to prevent change and preserve your youthful appearance and glow.
The treatment isn't permanent either, which means the commitment involved is extremely minimal. It also allows you to gauge how the treatment will look once applied, meaning once you need the treatment reapplying in up to six months time, you'll know exactly what to expect. You may also be extremely happy with the results and decide you would like botox in another area of your face too, to help combat facial wrinkles. Having repeated treatments can help prevent new wrinkle lines from forming and ensure that wrinkle lines which are already present can be lessened.
The Botox filler can also be used in other parts of your body, such as your underarm, to prevent excessive sweating. Sweating excessively can be quite common and extremely uncomfortable, especially when you're trying to get through a day at work or social interactions, the last thing you want is to sweat through your clothes. For some, this can make day-to-day life unnecessarily tricky and induce anxiety in social situations but luckily, there is a preventative treatment. By having Botox treatments under your arms, you're able to prevent this excessive sweating and enjoy your day knowing you're not going to sweat through your clothes.
There are many reasons you may want aesthetics and as technology has advanced along with methods of treatment, the procedures have become extremely popular. Living with features on your face that you're unhappy with or seeing your face change as you get older can be difficult. These changes can have a huge impact on your self-esteem and damage your confidence but nobody said you have to live with these features that you're not happy with. Incredibly, technology is available today which allows us to alter your appearance to ensure you're happy when you look in the mirror. That's the main aim of our treatments, to help our clients rediscover their confidence and improve the way they view themselves.
Through aesthetic treatments, we can help you maintain your appearance as you grow older or fix any imperfections that are affecting your self-image, without the need for surgery. With surgery, there are greater risks and longer recovery times, which can cause their own problems, such as disruption to your daily life. This can lead people to putting off the need for treatment, as the idea of being bed-bound for several days is simply too stressful. Dermal fillers offer a great alternative to this as you're able to go about your daily life almost instantly and face very little downtime. The results are also instant, meaning once you go out to carry on with your daily routine, you can begin enjoying the benefits.
One of the factors which can cause patients to put off receiving treatment is the price tag. This can also lead those wanting to get treatments to look for a cheaper alternative. When it comes to aesthetics or any treatment which involves your body, for that matter, it's important not to cut corners as this could put your health at serious risk. Whether it's lack of medical training from the person who is carrying out the procedure or the use of materials that are cheaper substitutes, there is a large risk posed. For the sake of saving a bit of money, putting your health at risk really isn't worth it and we strongly advise that you always choose to receive the treatment from experts.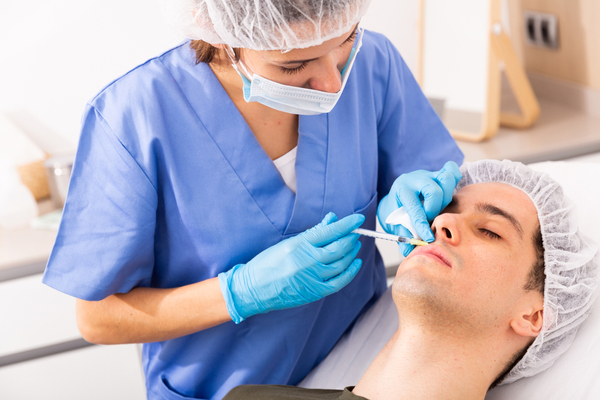 Why medical training is essential
As the treatments involve injecting substances into your body and altering facial features, it's extremely important that the doctor administering the treatment knows exactly what they're doing. Experience is absolutely essential to carrying out these procedures to ensure the results are what you expect and that your health remains a number one priority. At Dental Excellence, We've had the incredible Dr. Deji join our team, who has graduated from Kings College University in London, with a Bachelors. He's also had multiple years of experience in Neurosurgery, Plastic surgery and Orthopaedic surgery, providing incredible results to patients. Not only does this put you in safe hands when you choose Dental Excellence, but you can also rest assured that you're going to get amazing results.
By opting for a clinic, such as ours, which includes qualified staff such as Dr. Deji, you're reducing the risk of any issues occurring by a large amount. With his extensive experience, we can assure you'll be cared for, that the procedure will be correctly followed and we'll do our utmost to achieve the results you expect from us. If you've chosen to go to a back alley clinic or due DIY methods in the past, or are thinking about it, you will have likely faced a lot of anxiety and fear over the decision. This is because choosing these alternatives means that you'll face a lot of unknowns and you'll know, deep down, that there is a reason that these treatments are likely offered at a cheaper price. It's also likely that you've seen what happens when these treatments go wrong because the correct procedure hasn't been followed or corners have been cut when it comes to the materials used.
One of the most common issues associated with these types of injections is infection. If your back alley doctor or DIY process doesn't include properly prepping your face or the equipment, it is likely that infection will occur. This can cause a lot of pain and damage the skin around the area in which the treatment was administered. At Dental Excellence, we carry out all treatments in our sterile facility and ensure that all equipment is properly prepared and cleaned, to minimise the chance of infection. Our expert team are also experienced in applying the treatment, so there is no room for mistakes, which you may make if it's your first time trying this elsewhere.
The placement of the filler can also be a huge factor. You may have wondered to yourself, how does the doctor know where to inject the filler? This is why it's important to ensure you choose a professional, as they will know their anatomy, allowing them to know exactly how deep to inject the filler. Those who aren't qualified or are unsure of how to apply the treatment could end up injecting the filler too deep or not deep enough, leading to lumps or perhaps more serious issues. The specific nature of the treatment requires a trained professional to carry it out and ensure you can achieve the results you expected.
Another serious issue that can be caused by the filler being improperly injected is blocked blood vessels. This can happen when the filler is injected into the wrong place, leading it to block blood vessels and cause the death of skin tissue. Once the tissue dies, it can cause discolouration of the skin and large amounts of pain. This is why it's important to ensure you receive treatment from a doctor who knows the anatomy of the face and where important blood vessels are so they can be sure to avoid them. If you've suffered from these issues in the past you'll know just how painful and uncomfortable they can be and are likely looking for a qualified professional to carry out your next treatment to avoid these issues again
Aesthetics at Dental Excellence
At Dental Excellence, we can offer fantastic aesthetic treatments, which are carried out by our expert team. This makes us one of the best options for receiving these treatments as we can guarantee you results. Not only do we have an expert team that can carry out the treatment, but our facility is also state of the art, making it one of the best places to receive treatment. It has been designed to provide a warm and welcoming feeling, rather than a cold and clinical one which you often get at dental practices. With warm lighting and luxurious Italian furniture, we're created a relaxing environment to help reduce some of the anxiety surrounding dental and aesthetic treatments.
Our incredible team and aesthetics expert, Dr. Deji, are trained in client care as well as providing excellent treatment. This ensures that you're completely safe whilst the treatment is being carried out and eliminates the chance that you will get an infection from our facility. Our team is also on hand to guide you through the process every step of the way, answering any questions you have and ensuring you're comfortable. They'll also be able to help after the treatment too and answer any queries you have about post-treatment care.
We currently offer the following treatments at Dental Excellence:
Dermal Filler
Lip Enhancement

Minor Enhancement (up to 0.55ml of filler) - £200
Full Enhancement (1ml of filler and above) - From £300
Hyalase for dissolving previous lip filler - £200

Cheek Contouring

Minor Enhancement - £200.
Full Enhancement - From £300.

Aesthetic Contouring Package

Bronze (2ml+ of filler) - £500
Silver (4ml+ of filler) - £750

Non-Surgical Nose Enhancement/ Non-Surgical Rhinoplasty - From £400
Tear Trough Enhancement - From £400.
Tear Trough Enhancement + midface lifting - from £695
Temple Hollows - From £300
Smile Lines - From £250.
Other treatments:
Botulinum Toxin A (Botox) Treatments

Eye Area - £200
Forehead - £250

Eye Area and Forehead - £300
Underarm and Hands - £500
Masseter reduction (reducing the size of the Masseter muscle to enhance the appearance of the jawline) - £200 per session.
Combination Skin Package with Juvederm Volite (injectable HA treatment to enhance and nourish skin quality of the entire face) - Extra £120.
Skin Enhancement for the Face, Neck and Hands

From £300 per session or £500 for 2 sessions.

PDO Thread Lifts - From £200

Silhouette Soft Full Face Lift £1100

Fox Eyebrow Lift Combo Treatment - £600
If you'd like to receive any of the above treatments, simply get in touch with us today to begin discussing the process involved and how you can get your dream results. You can book a consultation online or contact us directly through the contact form on our website. To receive the treatment, you'll be invited into our luxury facility which is based in Liverpool.
Topics: aesthetics