Looking After Your Smile At Home
Posted by
Dental Excellence UK
on Sep 30, 2021 2:34:07 PM

Our teeth are an essential part of our body. They help us to chew and digest food; help us to talk and make sounds clearly; they give our face its shape; and, they allow us to smile and make genuine human connections. After all, it is our smile that provides us with and exudes effortless confidence around others.
As our teeth are so important, it is only logical that we need to look after them, giving them the best possible care to prolong their natural lifespan. If we have problems with our teeth, we might then begin to need treatments such as fillings, root canals, or crowns. It can also lead to gum disease, tooth loss, and even bone loss. However, these things are all completely preventable provided you are dedicated to looking after your smile at home.
Therefore, let us take a look at how we can look after our smiles at home, from taking care of your teeth to teeth whitening aftercare, oral hygiene routines for you to follow, and the low down on getting a smile makeover.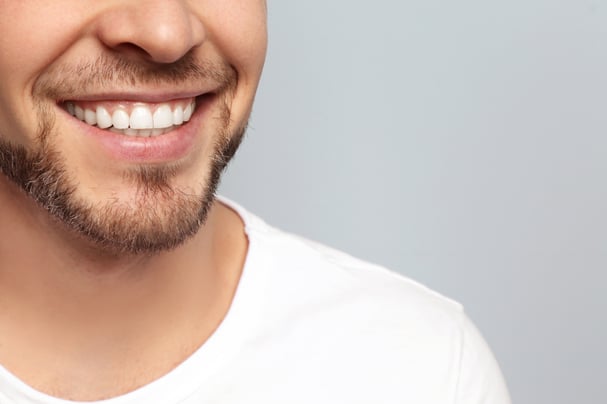 How Can I Care For My Teeth At Home
No matter how 'good' or 'nice' your teeth may be, it is always essential to take good care of your teeth and overall oral health. This is because it can not only take care of your teeth now but also prevent future problems from arising. Some people might think that the be-all and end-all of taking care of your teeth is going to the dentist, but, in fact, the foundations of a good dental care routine begins at home.
According to the official NHS website, here is how you and your children can take care of your teeth at home.
Brush your teeth twice a day, every day, with good-quality fluoride toothpaste.
Use an interdental brush or dental floss every day to remove the plaque, food, and debris that has become trapped between your teeth.
Living a healthy lifestyle, including not smoking, eating well, and cutting down on alcohol and sugar, is good for your whole body, including your dental, oral, and gum health.
Don't delay dental treatments
If you notice something wrong with your teeth, see a dentist as soon as possible. If left untreated over time, these problems can get worse, which will require a longer and more expensive procedure to fix.
The best thing to drink for your overall health, preventing digestive issues and dental issues, is good old H2O. Drinking water during and after every meal can help to wash away some of the negative effects certain foods can have on your teeth.
After-Care Advice For Tooth Whitening
After you have had a teeth whitening procedure and regained the confidence to smile with teeth, it is only natural that you will want to ensure that your results stick around for plenty of time. Even if you have used alternatives to teeth whitening, it is always a good idea to follow up any step in your dental health journey with dedicated aftercare.
Therefore, let us take a look at the things to do and things to avoid after you have had your teeth whitened.
Things To Do
Brush your teeth regularly
Brush your teeth regularly, making sure to floss more than usual to keep your teeth looking their best. You might also brush immediately after eating to limit the amount of staining that the food might cause.
Whitening toothpaste
From a week after your procedure, you can begin to reincorporate whitening toothpaste into your oral health regime. This can help your teeth to stay whiter for longer than if you use an average toothpaste. However, always wait until the sensitivity has gone away before using whitening toothpaste again.
Use straws
If you simply cannot avoid some of the beverages that you should, which we will list later on, then make sure you always use a straw to drink them. This means that you can still have that morning coffee you so require, but reduce the amount of staining that it might cause.
However, we all know that plastic straws are bad for the environment, so we recommend getting a reusable straw made from sturdy plastic, silicone, or metal. Some of these will even come with a travel case so that you can take them out with you in case the restaurant you visit doesn't offer eco-friendly straws.
Stop smoking
Smoking is a sure-fire way to re-stain your teeth after you have just had them whitened. Therefore, it is in your best interest to stop smoking, if not for your teeth but for your general health. This will keep your smile whiter for longer and improve your overall health.
Foods you can eat
As a general rule of thumb, it can be best to stick with pale or white food and drinks that generally don't have a vibrant colour. This might be foods like pasta, rice, potatoes, cauliflower, chicken, tofu, white chocolate, vanilla ice cream, and so on.
In fact, some foods can actually help to clean your teeth whilst you are eating, helping you to ensure they remain white. This includes crunchy fruits and vegetables like celery carrots, apples, and green beans.
Things To Avoid
Coloured foods
The first 48 hours after the teeth whitening procedure are when you are most prone to potentially getting a discoloured tooth, or several. For the best results, avoid coloured foods that are likely to stain your teeth, such as red wine, beetroot, berries, tea, coffee, chocolate, dark sauces, and bright spices among other things.
Coloured dental hygiene products
Avoid coloured dental hygiene products, such as bright toothpaste and mouthwash, as these can re-stain your teeth after whitening. Instead, use dental products that are light or white in colour. You might also opt for a sensitive toothpaste if you are feeling particularly sensitive after the whitening process.
Acidic foods
You should also avoid foods that are overly acidic, as this can weaken the 'pores' of your teeth enamel, making your teeth prone to tooth decay or staining after your whitening procedure. This includes things such as fizzy drinks, vinegar, pickles, citrus fruits, and other acidic foods and drinks.
Foods that are too hot or too cold
After tooth whitening procedures, your teeth might feel more sensitive than usual. For this reason, it can be beneficial to avoid meals that are too hot or too cold, or, for example, going straight from a hot bowl of soup to ice cream. In doing so, you should reduce any discomfort you might feel.
Oral Hygiene Routines You Should Follow
A good oral hygiene regime can keep your mouth healthy, ensuring that you keep your natural teeth for life, and protecting implant teeth. It can also help with sensitive teeth and prevent tooth decay and tooth loss. Therefore, here is a good dental hygiene routine that you should follow for a healthy mouth.
Brushing
What to use
Always use a fluoride toothpaste that has a recommended 1,500 parts per million of fluoride. This can help to protect your teeth from damage, and some types of toothpaste can even help to regenerate enamel over time.
It is also a good idea to use an electric toothbrush over a manual. Users of manual brushes can overbrush, causing drastic permanent damage to teeth and gums. However, an electric toothbrush does all the work for you, though it is recommended that you hold it only lightly.
How to brush
Brush each quadrant of your mouth for around 30 seconds each, getting into every corner of the mouth, amounting to 2 minutes total brushing time. Hold the brush at a 45-degree angle, pointing towards the gums, making sure to get all surfaces of the teeth. Don't forget the back of your teeth and chewing surfaces!
After you have done brushing, spit the toothpaste out but don't rinse. Brush like things twice a day, preferably before breakfast and before going to bed. However, it is also good practice to not brush straight after eating something sugary or acidic, as this can weaken the enamel.
Flossing
Floss your teeth once a day after brushing, making sure to clean in between every tooth, even right at the back of your mouth. Cut a piece of floss around 45cm, wrapping each end around your fingers. Then gently floss, following the curve of your teeth to protect the gums. You could also use floss picks if you are nervous about using floss.
Cleaning Your Tongue
Many people forget to clean their tongues when it comes to brushing their teeth and keeping their mouths healthy. However, there are three simple and easy ways that you can clean your tongue after brushing.
Brush

- Put a tiny bit of toothpaste on your toothbrush and clean your tongue using soft, circular motions.
Floss

- If you are a flossing master, use a clean, horizontal stretch of floss to gently scrape your tongue.
Tongue scraper

- Arguably the best way to clean your tongue is with a dedicated tongue scraper. Hold the ends of the scraper with each hand, using it to gently scrape your tongue.
Mouthwash
Mouthwash is one area of oral hygiene routines that many dentists disagree on. In fact, some dentists might tell you not to use it at all as it can exacerbate staining. However, if you are using mouthwash, there are some ways that you can use it so that it doesn't cause any damage to your teeth.
We recommend using mouthwash at a different time to your brushing routine. For example, mouthwash can be used occasionally during the day if you feel the need to freshen your breath. Only use a small sip and swish it around for 30-40 seconds before spitting it out.
How Do You Know If You Have Good Oral Health?
It is important to make sure that you go to your dentist on a regular basis for hygiene appointments, cleanings and dental check-ups. At these check-ups, your dentist will be able to advise you if your oral health is good and give you tips to improve it if necessary.
However, there are some indicators you can look for at home to make sure you have good oral health. For example, look for pink gums, or gums that do not bleed when you brush or floss, as this shows good gum health. On the other hand, bleeding gums might indicate gum disease. Other good indicators are teeth that don't feel 'fuzzy' and not having bad breath constantly.
How Long Does A Smile Makeover Last
If you are unhappy with your smile or find yourself being self-conscious about certain aspects of your mouth and teeth, then a smile makeover might be just the solution for you. A smile makeover can completely change your outlook and revolutionise your quality of life.
But before you commit yourself to a smile makeover from Dental Excellence, let's take a look at what a smile makeover is, what procedures it can involve, what results you can expect, and how long your makeover is set to last.
What Is A 'Smile Makeover'?
A smile makeover, at its most basic, is a makeover of your smile! Treatments such as veneers, implants, braces, bonding, fillings, crowns, contouring, teeth whitening, and facial aesthetics can be used to rejuvenate your smile and fix any issues you have or things you might feel self-conscious about.
What Are The Different Treatments In A Smile Makeover, And How Long Do They Last?
Veneers
Veneers are almost like a very thin shell that fits over the front of your teeth, which can drastically improve their appearance. They might be also known as laminates and can be used as a treatment for aesthetic issues, such as chipped, broken, damaged, or crooked teeth.
Veneers can either be made from porcelain or composite materials. Porcelain veneers need little to no maintenance. However, as it is so hard, if the underlying tooth bends, it could fracture or detach from the tooth. On the other hand, composite is softer, meaning it can wear down, chip, stain and lose its surface texture over time, although they are very easy to repair.
Though there is no guaranteed lifespan for veneers, typically composite veneers last around four years, whilst porcelain might last around twelve. This can be greatly increased if they are properly looked after.
Dental implants
Dental implants are a fantastic treatment option for those who have suffered from tooth loss or have badly damaged teeth. These implants are small, thin, metal rods that can replace a rotten tooth. If you have several teeth that need treating, you may be fitted with a bridge or denture, all of which will behave and look like natural teeth.
Our award-winning dental practice can undertake a same-day dental implant procedure, where you will be consulted, provided with, and be walking out with advanced, dental implants that day.
Typically, dental implants can last for a very long time, perhaps around 15 or more years. However, despite the high success rate, they can fail, in which case you will need a replacement. On the other hand, bridges might need to be replaced every decade.
Orthodontics
Orthodontics covers all kinds of braces, from fixed to aligners, invisible braces, and so on. These cosmetic braces and aligners can be used to fix crooked or misaligned teeth, lining them up perfectly with the adjacent teeth and removing any gaps.
Treatment usually lasts anything from 6 to 36 months depending on the nature of your natural teeth. Once the braces have been removed, the bones and ligaments holding your teeth will need time to settle. Whilst this is happening, your dentist will require you to wear a retainer, especially during the first 9 months post-treatment. So long as you wear your retainer as instructed, the results of cosmetic braces can be close to permanent.
Composite bonding
Composite bonding is somewhat similar to veneers, except they are made from a paste-like substance that is hardened under a special light source. Composite bonding can be applied in a singular layer or in multiple layers, before being polished to create the right shape and appearance of natural teeth.
As it is not as hard as natural teeth, composite bonding can wear down, chip, or break over time. It is also prone to staining and discolouration. For this reason, they typically last an average of five years before they will need to be enhanced or replaced.
Crowns and fillings
A tooth consists of a crown sitting above the gum and the roots below the surface, attaching the tooth to the jawbone. In the event of a cavity or fractured tooth, you will likely be recommended either a filling or a crown. The difference, put simply, is that a filling can be used for minor repairs, whereas a crown might be required for a cracked tooth or after a root canal.
As a general rule of thumb, composite fillings generally last around 10 to 12 years before needing to be replaced, unless they come out sooner. Similarly, a crown typically needs to be replaced after 10 or more years.
Teeth whitening
Teeth whitening involves using professional techniques and bleaching processes to safely remove stains from your teeth and leave them looking shiny and pearly white.
Depending on how well you look after your teeth, the food you eat and drink, and a variety of other variables, teeth whitening can last anywhere from a few months to up to three years.
Facial aesthetics
But a smile makeover isn't just about the teeth - we can't forget about our cheeks and lips that make a smile a smile! Therefore, another part of a smile makeover might be facial aesthetics, which includes procedures such as Botox, dermal filler, and lip enhancements. This can help to smooth out any lines or wrinkles, especially 'laughter lines', and plump out thinning lips.
The results of facial aesthetics treatments will vary depending on the procedure used, as well as where you have the treatment. However, repeat treatments generally tend to be around every three to six months.
Get In Touch
Get in touch with the Dental Excellence team today for more information and advice about taking care of your smile at home. Our dental experts will be able to provide you with bespoke advice and recommendations, perfectly tailored towards your desired results and goals.
Whether you are a celebrity, internet influencer, or someone who is having a bit of trouble with their teeth, we can help you! If you have experienced any of the problems mentioned in this article, such as sensitive teeth or bleeding gums, or you struggle to follow a good oral hygiene routine, speak to one of our dentists to see how we can help you.
Here at Dental Excellence, we can provide you with a wide manner of dental treatments such as a digital smile makeover, same-day smile makeover, composite bonding, cosmetic braces, dental implants, facial aesthetics, root canal treatments, and veneers. Yes, that's right, we can do everything that has been mentioned above. Just compare our smile solutions to find the best treatment package option for you.
You can book a consultation online or contact us directly through the contact form on our website. To receive the treatment, you'll be invited into our luxury facility, which is based in Liverpool.
Topics: aesthetics